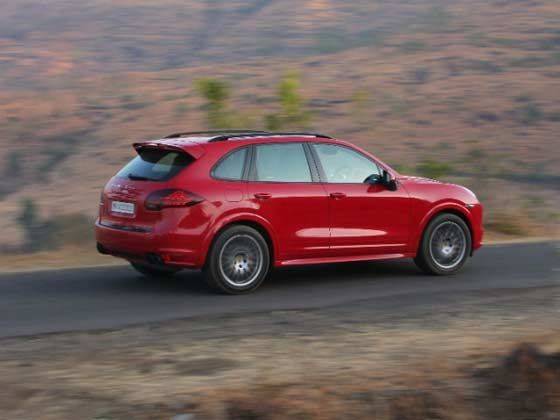 In doing so, Porsche has obviously tinkered with the suspension and enhanced chassis control. The standard steel spring suspension is now 24mm lower than before, or if you opt for the air suspension package you can go as much as 20mm lower than the earlier version. Secondly, the rear track is wider by 17mm, which not only aids in the vehicle's dynamics but also offers a more purposeful stance even at standstill.
Finally the GTS gets the Porsche Active Suspension Management (PASM) and Porsche Torque Vectoring Plus (PTV Plus) as standard and if that isn't enough you can also opt for the Porsche Dynamic Chassis Control (PDCC) to further reduce body roll and literally takes turns in a freakishly un-SUV-like manner which seems to defy the laws of physics.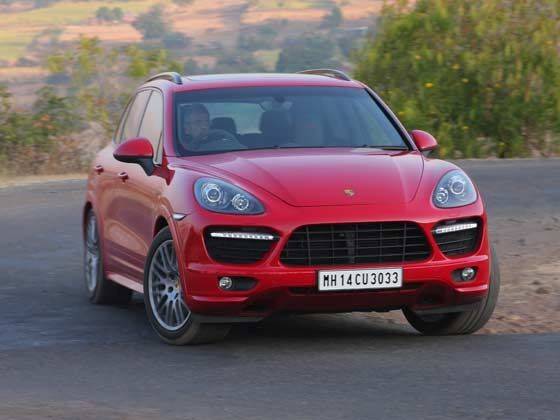 In fact as I charged through the Lonavala ghats in the striking red Cayenne GTS, I was taken in by the way the SUV just sticks to the lines. On occasion I felt that I was pushing myself too hard, yet the vehicle remained composed and stuck to road as if it was on rails. Despite its size and girth, the Cayenne GTS feels 'smaller' and easier to toss about than its counterparts, namely the Audi Q7 and VW Touareg which share the same platform. Steering input is spot on and the feedback you get is remarkable. Porsche has definitely brought about a game changer here and I can already see other SUV manufacturers working vigorously to bring out a product that can match the GTS in their stables.
Straight line performance is also great and honestly speaking, it's more than enough for this country where crossing 150kmph is a challenge in itself and most highways are designated for 80-100kmph driving anyways. In this environment, the Porsche Cayenne GTS is a super car on steroids that has grown a lot of muscle to invariably look like an SUV, yet is capable of unleashing a blitzkrieg on our roads while offering immense control to the driver. To describe the experience of driving the Cayenne GTS as exhilarating would be an understatement; its something entirely different, a new feeling, a new high that offers a rush that you just strive to get over and over again.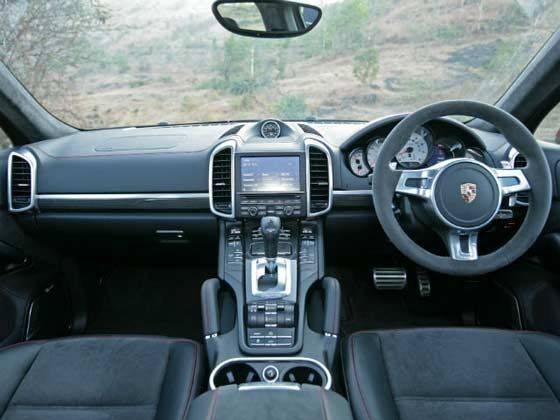 It's an addiction. And while it is capable of such performance, Porsche has also ensured that stopping power is more than just ample. The GTS comes fitted with these huge 360mm, six piston, vented disc brakes up front and 330mm vented disc brakes at the rear which do all you need in terms of coming to a halt. Having said that, if you want even better, Porsche has the answer for that too with its ceramic brakes option, which is touted to take even less time in bringing this behemoth to a halt.
Surprisingly, Porsche has also managed to give the new GTS a ride quality that is infinitely superior to its predecessor. It's not something that you would expect, however the new GTS does deliver on that front as well! While you can choose for a softer ride option by switching to 'comfort' mode, the GTS is a revelation for even in 'sports' mode it is capable of traversing over broken surfaces rather well. Riding on 20 inch alloys shod with low profile rubber (you can opt for 21 inch rims as well, but here in India, its recommended that you have a little more rubber to deal with our roads), the Cayenne GTS does let a little bit of the road undulations trickle in to the ride quality department but it isn't something to really complain about-after all this is a vehicle designed for drivers and not for some back seat honcho who has to be chauffeured around; for that buy the Cayenne Diesel! Of course, the one thing that the Cayenne GTS loses out on in terms of SUV characteristics is the ability to traverse through the real rough stuff, but that is a small loss considering the age old argument that most owners will most probably never leave the tarmac in the first place, which settles that matter.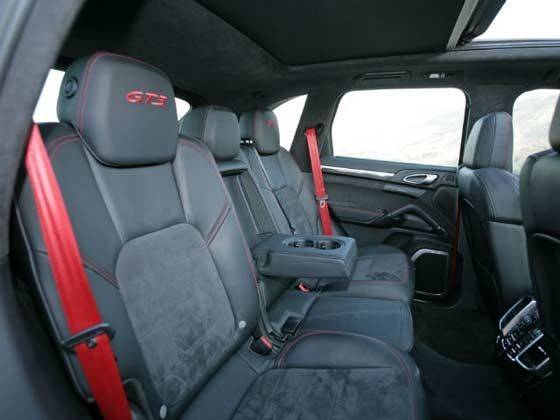 Porsche has made it very clear that the new GTS is all about the on-board experience and in order to maximize that, they have also included their new Sound Symposer technology which was earlier seen on the 911. Essentially, what this symposer does is that it allows you to pipe in the meaty note of the V8 through the A pillar upon engaging 'sport' mode. Ask anyone, and they will tell you that the sound of the engine on a sports vehicle is as essential as its performance. What good would a silent sportscar be if you couldn't announce it to the world or enjoy that guttural note yourself? Sound goes a long way in enhancing your experience and Porsche obviously wanted to capitalize on this aspect as well.
Honestly though, I'm not complaining cause a motorhead like me could listen to that sweet sounding V8 all day long, especially when you are snuggly fitted in those amazingly comfortable seats and surrounded by a sea of Alcantara leather and a very upmarket and stylish cabin. Speaking of which, the craftsmanship seen on the interiors is unmistakably implemented in that signature Porsche fashion.