Discussion Starter
·
#1
·
A Battle Royale Between The BMW X5M, Jeep Grand Cherokee SRT8, ML63 AMG, & Cayenne T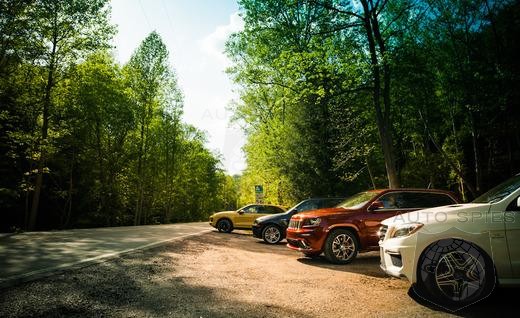 One of the funniest things in the world of auto writing is the stupidity of the folks who claim to be the know-it-alls.
I've read far too many stories that proclaim high-performance sport-utility vehicles to be "ridiculous" however whenever anyone mentions a 500 horsepower plus wagon it is a "dream." Talk about nonsensical. Anyhow, let's get down to the meat here.
A publication recently hosted an epic battle between the likes of the BMW X5M, Jeep Grand Cherokee SRT8, Mercedes-Benz ML63 AMG and Porsche Cayenne Turbo.
Unsurprisingly, all of the vehicles in question perform much like their other family members and have essentially the same exact problems. Let me explain.
The Jeep will definitely do the least amount of damage to your checking account; however, it performs like a dog relative to the others.
Porsche's Cayenne is the most versatile offering and can tow a house but at the end of the day it gets rocked because of its Porschelike price. That shouldn't come as much of a surprise, given that it's a Porsche.
Mercedes-Benz's foray into this effort starts off seemingly positive with the publication cherishing its interior appointments; however, turns bad once the mag starts riffing on its "numb" steering. It's a Mercedes-Benz and a sport-utility vehicle. What I am trying to say is, it didn't have a shot to start with as Mercedes' are known to be more inclined towards luxury and a more isolated driving experience.
The X5M is heralded as the second coming of our great savior. And I'll be the first to admit it's an awesome high-performance SUV; however, is it really the best all arounder like the Porsche, which can actually go offroad and tow things? I don't believe it looks nearly as good as the Mercedes-Benz or even swing a stick at its interior.
That said, aside from the writings of these guys, what say YOU?
WHICH high-performing SUV would YOU want in YOUR driveway?
Read Article
ROYAL RUMBLE! A Battle Royale Between The BMW X5M, Jeep Grand Cherokee SRT8, ML63 AMG, Cayenne Turbo - AutoSpies Auto News