Discussion Starter
·
#1
·
When I first heard that Porsche would be producing an all-new sport-utility vehicle that be a sub-Cayenne offering, I wasn't sure what to think.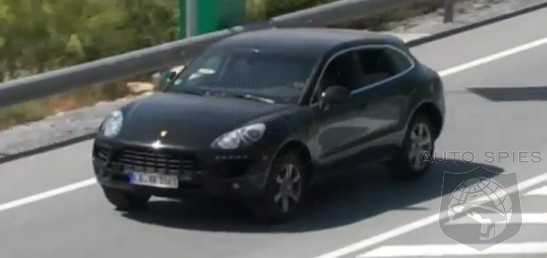 Would it be something very pedestrian and, frankly, a slightly dressed up Volkswagen or Audi product?
Would it be able to square up with the new Range Rover Evoque and it's sleek styling? Well, the jury is still out on that one.
What I did notice though in this spy footage, is that this all-new Macan is going to be more of a sporting product than I would have originally thought. How can I tell? The devil is in the details, my friends.
Look at the width of those tires and its wide stance! In one scene a BMW is right behind it and it makes the Macan look like it's as wide as a Lamborghini LM002.
Once you're done looking at those details, take a good look at its rear windscreen. While we can't conclusively say that this is the vehicle's final body/shape, that rear windscreen has an aggressive rake. This leads me to believe it will be less of a utilitarian product and more a style piece -- much like the Range Rover Evoque.
In addition, I would highly doubt that Porsche will jump the shark on providing a proper motor in this vehicle. I would guess some sort of Audi-sourced six-cylinder will provide the Macan some bite.
And if you were to square it up against on those assumptions alone, you already have a better product. That's not even considering the Macan's interior, which will likely be inspired by the Panamera, Boxster, et. al. My early read on things is simple: It will blow the Range Rover out of the water.
SPIED + VIDEO: Porsche's Upcoming Macan Gets Spotted In Action - Look Out Evoque? - AutoSpies Auto News